*The deadline for registering and getting a t-shirt has passed. We will try to have enough race shirts for everyone who registers moving forward but can't make any guarantees. See you at the track!*

Avoid the rush and pick up your registration packets in advance at Roy Kirby Jr. Stadium at Washington College on Thursday May 24th from 5 - 6:30 pm.
Otherwise, you may pick up your packet at the stadium starting at 4:45pm.
​Please make sure to leave enough time before the races start to get your stuff!
NOTE: You may sign up at the track on the day of the races for $15, but you will not receive a t-shirt. Cash or check only, please!
Sneaker Creeper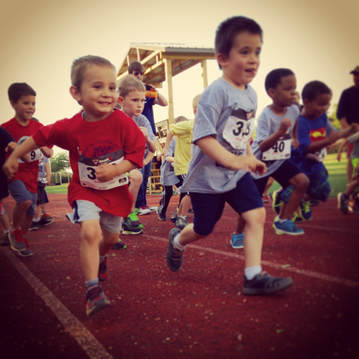 Welcome to the event of the year!
The Sneaker Creeper was started by Dixon Valve & Coupling back in 1988, which means we are currently celebrating our 29th year of fun and fundraising!

All proceeds from this event benefit our local elementary school, Henry Highland Garnet Elementary, a Title 1 School. Funds are used to support school events, assemblies and extracurricular activities through the PTA.

This annual community-wide event is meant to enhance and encourage learning, sportsmanship, friendship and fitness, while having a whole lot of fun along the way.

Concessions will be available for purchase.
---
"The Sneaker Creeper is the event we look forward to most during Tea Party weekend. What incredible fun for the kids and parents alike." -Robbi Behr, Garnet mom
COME EARLY AND STAY LATE!
RACES (in running order)

11 yrs 1 mile
2-3 yrs 75 yard dash
4-5 yrs 1/8 mile
6-7 yrs 1/4 mile
8-10 yrs 1/2 mile

---
Thanks to our current 2018 sponsors!